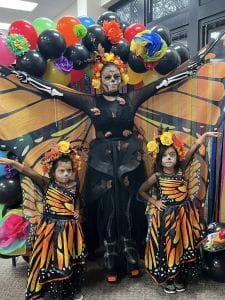 Dia De Los Muertos, otherwise known as Day of the Dead, is an annual Mexican holiday that serves as a commemoration of deceased loved ones. This holiday is celebrated with food, drink, and festivity, as it is believed that the souls of the dead briefly return to the earthly realm to be with their families and loved ones.
Elgin pays homage to this Mexican tradition by hosting a vibrant event in our historic downtown on November 1st. The festivities include a stunning array of alters, a variety of food vendors, and lively music. The highlight of the event is a walking parade down Main Street, showcasing a colorful display of costumes, make-up, stilt walkers, giant skulls, and other captivating performances. Additionally, the event features spectacular performances on stage, such as fire dancing, a mariachi band, and beautifully dressed dancers. A must-see aspect of the event includes the intricately detailed alters scattered throughout the town to honor the departed loved ones of our community.
We are thrilled to present this event to you, courtesy of the City of Elgin's Main Street Program.