The City of Elgin was created by the Houston and Texas Central Railroad in 1872 and named for Robert Morris Elgin, the railroad's land commissioner, following the practice of naming new railroad towns after officers of the company. The original plat placed the train depot in the center of a one-square mile area.
The city of Elgin owes its existence to a major flood on the Colorado River in 1869. Originally, the railroad was to have run from McDade, ten miles east of Elgin, southwest to the Colorado River at a point somewhere between Bastrop and Webberville, then to Austin following the river.
Many of the original residents of the new town of Elgin came from Perryville or Hogeye as it was nicknamed, located two miles to the south. The community was known by three different names. The post office was officially named Young's Settlement and the churches and Masonic Lodge carried the name Perryville. The name Hogeye was given to the stage stop at the Litton home where the community dances were held, and according to legend the fiddler knew only one tune "Hogeye" which he played over and over as the crowd danced.
In 1885, a new North-South railroad line was organized and Elgin became the beneficiary of two major rail lines with eight passenger trains daily. By 1890, the population had reached 831 and Elgin continued to grow and prosper.
In 1900 a bumper crop of cotton helped to establish five cotton gins and a cotton oil mill, all in operation at the same time. The growth continued through the 1920's when most of the downtown brick commercial buildings were built.
Today, Elgin is famous for the two products it's been making since 1882: reliable bricks and delicious hot sausage. Three brick companies are still operating in the Elgin area. Elgin has also gained a national reputation for its hot sausage. Three local companies produce over 3 million pounds annually.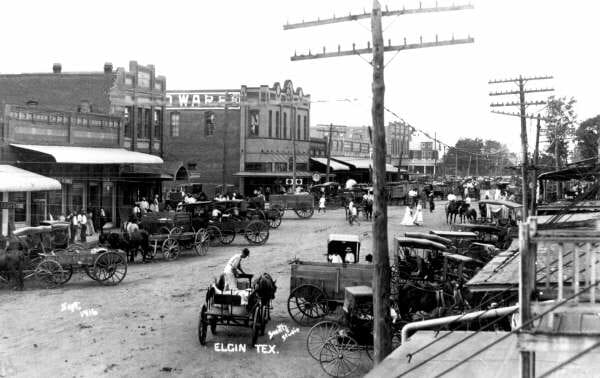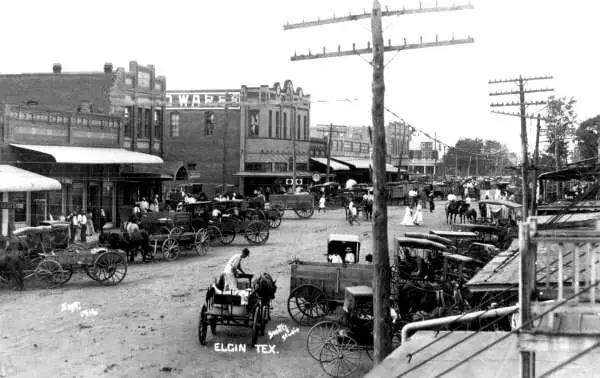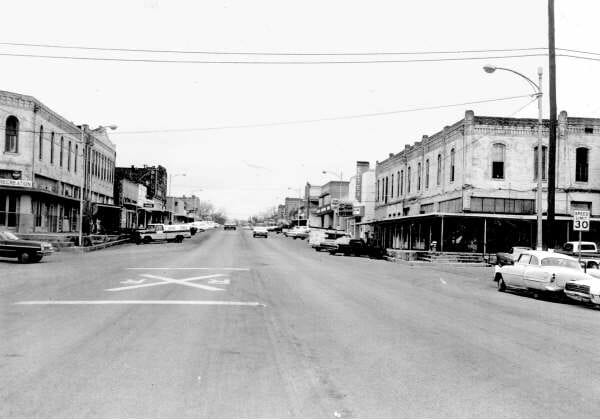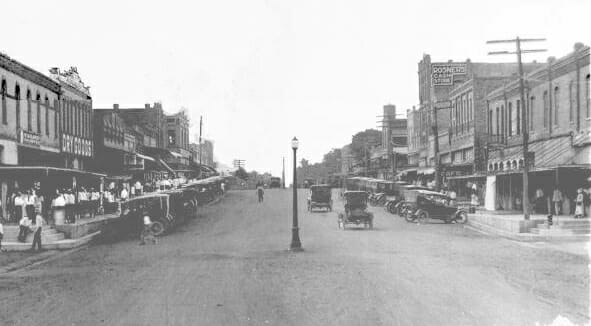 Elgin is a community rich in history. It has been designated by the National Trust for Historic Preservation as a National Main Street Community. It offers many award winning examples of historic preservation.
The H & TC Freight Depot built in 1872, is the oldest building in Elgin. Currently it is the home of the Greater Elgin Chamber of Commerce. The restoration of this building was a joint effort between the City of Elgin, Greater Elgin Chamber of Commerce, Elgin Main Street Board and the Southside Merchants Association along with many grant providers. The original passenger depot, Union Depot has recently been completely renovated by the City of Elgin. It now serves as a museum for the community. The Elgin Historical Association operates the museum. It is opened Tuesdays-Sundays from 2pm –5pm. The Nofsinger house built in 1906 houses the Elgin City Hall. Historic murals, banks, pharmacies, barber shops and elegant old homes are all part of the historical scene in Elgin.